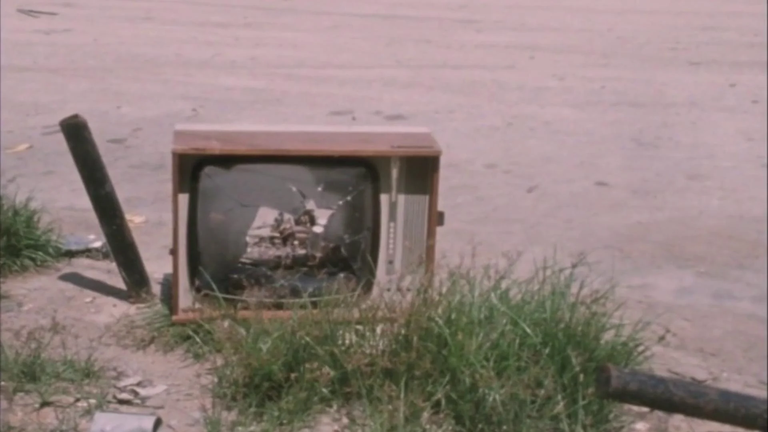 June 29, 2023
Nuovo Cinema Arabo x TB21A-Academy: Thus waves come in pairs
A collaboration between TB21A Academy and Nuovo Cinema Arabo on the occasion of the exhibitionThus waves comes in pairs at Ocean Space, Venice curated by Barbara Casavecchia

Ocean space, Venice, 18:00

Thus waves comes in pairs takes its title from the poem "Sea and Fog" by Etel Adnan, and refers to the necessity of thinking of, and thinking with, plurality and exchange. Alongside scultptures by Simone Fattal and a newly commissioned instllation by Petrit Halilaj & Álvaro Urbano, the exhibitoin features an expanded public programme focused on supporting situated projects, collective pedagogies and alternative voices along the Mediterranean basin, across art, culture, science, conservation, and activism.

In this context Nuovo Orfeo presents Cinema Arabo Vol 2, an evening of films co-curated by Barbara Casavecchia and inspired by Etel Adnan, including Jocelyne Saab's Beirut Never Again (1976) and Lamia Joreige's Sun and Sea (2021)
PROGRAM
Beirut, Never Again, (35')
With a child's eyes Saab follows the daily destruction of the city's walls. Every morning, between 6 and 10am she roams around Beirut while the militia from both sides rest from their night of fighting. A narration written and voiced by Etel Adan accompanies this devastating and extraordinary docu-poem.
Sun & Sea, (17')
In 'Sea & Sun', at Adnan's request, Joreige enters into a hesitant dialogue with the poets first poem, written in 1949. The sound of waves and the golden light refracted on the blue sea present a seeming counterpoint to the intesity of Saab's film, yet Adnan's poem, hints at a hidden conflict between sun and sea. The threat of turmoil is never far away.

Jocelyne Saab (born in Beirut in 1948) was a Franco-Lebanese filmmaker, best known for her documentaries about the Lebanese civil war. She is considered a pioneer of Arab cinema, and built up a monumental body of work comprising 47 films and 6 photographic series. Mainly produced for television, her documentary films were, before her death on January 7, 2019, best known to the Lebanese diaspora who had access to her films broadcast on television during the war.
Lamia Joreige(born in Beirut in 1972) is a visual artist and film-maker who lives and works in Beirut. She uses archival documents and elements of fiction to reflect on history and its possible narration, and on the relationship between individual stories and collective memory. In her practice, rooted in her country's experience, she explores the possibilities of representing the Lebanese wars and their aftermath. Her work is essentially on time, the recordings of its trace, and its effects on us.

With thanks to Louise Malherbe and Association Jocelyne Saab